Flotsam
What I'm listening to: the January 4 episode of
Odyssey
, which is all about New Year's Resolutions and keeping promises to one's self, and what might happen when we see ourselves as untrustworthy. I'm a geek, I know, but I'm enjoying it.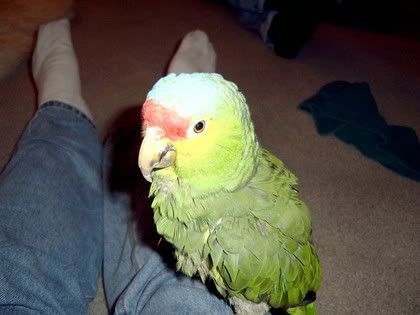 Hey, baby, you got a cracker?? This poor bird fell in love with Elwood over the last weekend. I'm sure he's pining away on his perch in Madison, even as we speak. I was flattered by his marginal attention to me, since I am a lowly female. But his best squawks and chirps were reserved for my husband. Feckless home-wrecking bird!
In my tireless quest to bring girl politics to the Tally Ho, I remind you of the existence of the
Scarleteen Newswire
. Heather kicks ass on bringing all those reproductive rights issues to light, though she's sadly fallen down on the case of that
Spokane woman
who couldn't get a divorce because she was pregnant. In breaking Chicago news,
Elwood
discusses the tragedy of people always having to wear pants. Or perhaps it's really about modernism. I dunno.
C'mon, it's 2005! Up and at 'em! Doesn't anyone else feel a blog entry coming on??