Why?
I had my slice of pumpkin pie and a tall glass of merlot ready to aid my hour of
Desperate Housewives
only to find out that some Mitch Albom
movie
with exploding things and
Jon Voight
was in its place. What a bummer. Its not like Sunday night with HBO is really any better now... and the pie was not satisfactory.
I added
Liberal Street Fighter
under the "Information" links.
I saw two interesting clips from the Sunday morning political shows. The first was
John McCain
saying that he was disappointed that Sec. Rumsfeld is not being replaced. It also still sounds as if he has presidential hopes for 2008 despite the fact he will be 72 years old. The second was new Senate Minority Leader
Harry Reid
discussing the SCOTUS. He seemed to think the
Justice Scalia
's decisions, and re read on Kos to make sure, were based on solid thought despite disagreeing with him on many things - and his relationship with the Vice President as a reason for him to not be CJ. He also called
Justice Thomas
's decisions weakly written and that he was unsuitable for being CJ. It reminded me of the joke on the
Al Frankin Show
many months ago... the reason why the Supreme Court doesn't allow a live visual feed is because Justice Thomas would just watch from home - since he doesn't ever have any questions.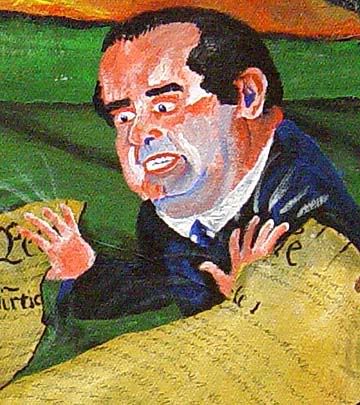 Quotes
"This court is riddled with conflicts of interest. Clarence's wife, Ginny, is over at the Heritage Foundation gathering conservatives' résumés for possible appointments in the new administration. My son is a partner at Ted Olson's law firm. Another son just got hired by another law firm working for Bush. But if I had recused myself, there would have been a tie. And then those radicals on the Florida Supreme Court could have been affirmed. And President Gore might have made Ruthie the chief." (12/13/00)

"The Constitution just sets minimums, most of the rights that you enjoy go way beyond what the Constitution requires." (Corroll University, 3/19/03)