Listening to our so-called "Commander in Chief"
I still can not believe this man is our President. I can't say President Bush and "Commander in Chief" in the same sentence...
President Bush at his Iraq policy, wow!, pep rally...

By the way, did you know that Social Security is a serious issue - but not the only issue? Also, Mr. Bush will not be tricked by the press into "negotiating with himself." Oh, that tricky press corps. I thought you should know this because he is pretty adamant about it.

"I accuse Carl of trying to look like Johnny Damon."

Also, he has sat in the "diplomatic dental chair" and the President has looked into Sec. Rumsfeld's eyes. Underneath that "ruff and gruff exterior" is a man that cares deeply for the military.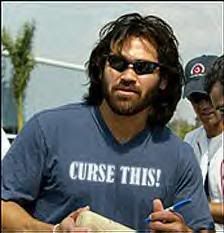 Apparently, Carl