Christmas Post
Let me just say how happy I am not to travel this holiday season. The last 12 months to the day has been one bad travel experience after another. And honestly, I didn't have enough physical and emotional energy to travel this holiday - not to mention being all congested and dealing with delays and cancellations, hotel rooms, lack of actual relaxation, all stuff I'm not up for. Of course seeing everyone would be fantastic, but not this year.
Baseball
: Tweed sent me a great clip (I owe him an email) about New Englanders and what they promised to give up if the Red Sox one. That made me decide to write about baseball. At first I thought the Yankees were set to retake the East from the Red Sox next year. The Yanks improved their starting pitching by signing Carl Pavano and Jaret Wright - and were on the brink of actually trading for a lefty, Randy Johnson, so they have someone to challenge David Ortiz and the rest of the big left handed hitters the Sox have. How good Pavano and Wright will be is yet to be seen, but they are both young - as is Vazquez. The Yankees signed Tony Womack, a true lead off hitter and may land Carlos Beltran. I am not sure if Beltran really would make the Yankees that much better - but he has a long career ahead of him. The Yanks still need lefty relievers...
I was worried about Boston's starting pitching. Losing Pedro, seemingly not being interested in Derek Lowe, losing out on Pavano - Varitek unsigned... but it does seem as if signing Matt Clement, Wade Miller, David Wells, John Halama, and Matt Mantai to go with Schilling, Arroyo, and Wakefield provides the Sox with a lot of depth when it comes to starters and long relievers. This could be huge in the playoffs. Lets face it, how many quality pitchers did the Sox get instead of signing Pedro? Especially if Miller is eventually 100%. The next big move was upgrading shortstop by signing Edgar Renteria. Cabrera provided a lot of energy but Renteria is a consistent gold glover, does not miss games, and is a lifetime .289 hitter. Lastly, and perhaps most important, team captain Jason Varitek will be back to work with the pitching staff.
The Cubs have been rather quiet thus far. Signing Nomar, Walker, and Rusch were no brainers, but there is no replacement for Moises Alou in left and the Cubs still have to move Sammy Sosa. I am sure they are holding out for Beltran, but they can't sit still forever. Alou is an RBI machine and Sosa seems to be more of a problem than a help at this point. But when you have Zambrano, Wood, Prior, Maddux, and Rusch as your starting rotation - not a lot has to be done.
Don't worry
about the penguins surviving the
massive earthquake
. I know this was everyone's primary concern this holiday season.
The quake hit 400km (250 miles) off the Macquarie Islands on Friday, measuring 8.1 on the Richter scale.

Penguins appear to have escaped a major disaster as the quake occurred deep under the sea, far from inhabited land.

There were no tsunamis, or large tidal waves, because the quake moved horizontally rather than vertically.

The tremors were felt in Tasmania, 1000km (600 miles) away, but because the epicentre was 10km underground, few observers noticed the initial quake.

Buildings on the islands shook for 15 seconds, seismologist Cvetan Sinadinovski said.

"If this had happened underneath a population centre it would probably have destroyed a whole city," he said.

The quake was the biggest anywhere on earth since an 8.4-magnitude tremor off the coast of Peru in June 2001. That killed 74 people.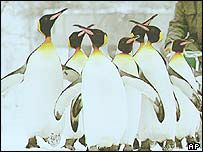 Happy penguins celebrate their safety and security this holiday season
What do you want for Christmas? Is it Prime Minister Tony Blair losing power?